Breadcrumb trail
Support for your BlackBerry PlayBook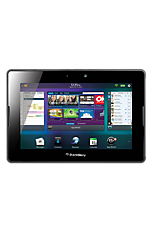 We no longer stock
this tablet,
browse all of our
tablets here
Phone specifics
Manufacturer:

Who made your device.

Blackberry
Name/number:

The official name for your device.

Playbook
System
Operating system

The software that's responsible for operating your device, for example, many computers use the Windows Operating System.

Blackberry Tablet OS
Processor

The brain of your phone, this processing chip runs programs and completes commands. The faster the processor, the faster your device will perform.

1 GHz Dual core
Input method

How commands are operated on your device, such as a QWERTY keyboard, trackpad or touchscreen.

Touchscreen
Dimensions
Size
194 x 130 x 10mm
Weight
425g
Connectivity
3G

A wireless internet connection.

No
MMS

The Multimedia Messaging Service is text messages that contain media such as photos or videos.

Yes
Bluetooth

A short-range wireless connection. Can be used to send media or connect to a headset.

Yes
GPS

The Global Positioning System finds where you are on earth with the help of satellites.

Yes
Email

Have your personal emails delivered to your phone.

Yes
Wi-Fi

A way of connecting to the internet without wires. Wi-Fi uses routers, which are hotspots that are always connected to the internet, transmitting signals around them which your device can pick up.

Yes
NFC

A secure short range wireless technology that uses magnetic fields to exchange information, such as photos or music.

No
Display
Screen pixels

The tiny points that make up your device's picture.

480 x 320
Display size

How big your device's screen is.

7"
Camera
Camera (Megapixels)

A million pixels make up a single mega pixel, which is a single dot in your photo.

Yes (5MP)
Video

The ability to record and play video on your device.

Yes
Playback

The ability to watch videos you've recorded.

Yes
Video editor

Alter clips with straightforward changes such as trimming, or effects such as adding music or colour filters.

No
Front facing camera

Takes pictures with the camera facing you rather than away from you.

Yes (3MP)
Memory
Internal device memory

How much information your device can store.

16/32/64GB
Other features
Web browser

The access to view internet pages.

Yes
Media Player

The software for playing music and video.

Yes
Calendar

Plan days, weeks and months and years and save events.

Yes
Voice dialling

Dial contacts with your voice.

No
Instant messenger

Messages sent in real time through the internet, eg. Google Talk.

Yes
Document viewer

View PDF, Word, Excel and PowerPoint files.

Yes
Document editor

Edit PDF, Word, Excel and PowerPoint files.

Yes
Did this page help?
Thanks for letting us know what you think. We read all your feedback and use it to improve our website, but we can't reply to individual queries. If you like us to respond, please use our online form.